Julia Wiredu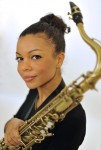 Julia Wiredu has been playing the Saxophone for about 15 years. When she was 12 years old she was chosen as awardee by the Rotary Club and granted her "Selmer" saxophone. Because she was given this opportunity by her own saxophone teacher, she also tries to achieve the best for her students.
After her A-Levels she taught English, music and creative arts at her aunt's primary school in Ghana for half a year. From 2010 to 2013 she studied Area Studies at the Humboldt University in Berlin, where she also played in many different Bands. During her foreign term in South Africa she was also able to learn a lot about African music.
Until recently she attended a private full-time vocational school for rock, pop and jazz with the main subject saxophone. Here, she received professional training in harmonics, ear training, arrangement and recording, percussion, musical history, organology, piano and other theoretical subjects. This is a partly private state music school where she has become officially trained leader for pop, rock and jazz ensembles. She also learned singing and how to lead a choir or a band.
Julia's main instrument is the saxophone, but she also taught clarinet, flute and recorder at three different music schools in Germany. Her students ranged from ages 7 to 50. The experience that she gained in these schools prepared her perfectly for the job as a woodwind teacher.
Julia believes that the most important thing for her pupils is enjoying their musical experience and having fun while learning to play their instrument. She looks forward to beginning a new and exciting life in Dubai and joining the CMA family!