Ms. Jennifer Cuthbertson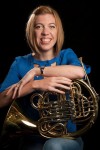 Born in Scotland, Jennifer completed her Bachelor of Music Degree under the tutelage of Harry Johnstone at the Ian Tomlin School of Music, Edinburgh Napier University, graduating with first class honours and winning the David Macmillan Brass Prize in 2008.
During her studies she enjoyed a variety engagements as a soloist, chamber and orchestral musician with ensembles such as the Scottish Chamber Orchestra, the Edinburgh Quartet and the Scottish Sinfonia, and artists such as Nicola Benedetti and Julian Lloyd Webber. She also participated in masterclasses with David McClenaghan, Hugh Seenan and Radovan Vlatkovic.
Since relocating to the UAE, she has been involved in the local music scene, performing regularly with the National Symphony Orchestra, the Dubai Singers and the Dubai Chamber Choir. She has also had the chance to perform with ensembles in Oman and Bahrain. Most recently she was invited to perform Mozart's Horn Concerto no. 3 with the Dubai Chamber Orchestra.
Jennifer is about to enter her seventh year with Centre for Musial Arts and has enjoyed a diverse range of responsibilities within the company. Teaching and sharing music with young people is her passion and she has been involved in several innovative educational initiatives alongisde her brass teaching commitments throughout her time at CMA. These include work on our ensemble and musicianship programmes, the conception and organisation of specialist workshops and masterclasses for brass students, introducing a music course for younger children, co-ordinating an annual Summer School and introducing the annual CMA Young Musician Competition. She is also Course Director of the Arabian Youth Orchestra, of which CMA is a sponsor.
Jennifer is very interested in outreach and charitable work through music and has run training workshops for the volunteers of the Palestinian Children's Relief Fund (PCRF). She is also privileged to be part of the CMA team who visit the Green Gecko Project, Cambodia, to run annual music workshops with the young people there.