Ms. Sheba George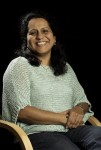 Born and educated in India, Sheba has been in Dubai since 2003. She has a Bachelor's degree in Economics (Major), Sociology & Politics and a PG Diploma in Entrepreneurship.
She has over 20 years of experience heading Administration and HR Departments both in India and Dubai, where she has developed and implemented customised, user friendly Admin and HR systems. Sheba has been with CMA since its inception at the Mall of the Emirates and enjoys every day at work.
She loves music and meeting people from different back grounds.