Ms. Carolyn Domil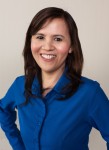 Carolyn was born and raised in the Philippines.
She graduated from Philippine School of Business Administration - Quezon City with the degree of BSBA Major in Accounting.
She has over 25 years' experience in the field of accounting within telecoms and retail.
Aside from being creative and artistic, she loves to listen to the music and would like to become a pianist and guitarist. She joined the Accounts Team in May 2017.