Ms. Maria Kompoti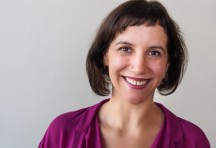 Maria was born in Greece where she started her piano studies at the age of 6. From a young age, she knew that she wanted to be a professional pianist. She received her Piano Diploma with Honors from the Attiko Conservatory in Greece under the tutelage of the internationally renowned soloist and conductor Dimitris Toufexis, whom she considers her mentor. She continued her training at a Master's level (MMus) at the Royal Welsh College of Music and Drama, studying piano with Richard McMahon and Graham Fitch.
Her passion for stage performance drove her to devise her own method of music memorization, which she developed into a coaching technique. As a result, over the past few years, she has been invited to give lectures on "Active Memorisation of Music" by various performing arts institutions in Greece, including the prestigious European Piano Teachers Association of Greece.
Furthermore, she has worked as the editor of the "Music Dictionary for Kids and Adults", which was published in Greece in 2012.
Due to her belief in the importance of lifelong learning, since obtaining her Master's degree Maria has participated in Composition and Performance Workshops led by Berklee College Professor Alexandros Kalogeras. Under Prof Kalogeras's guidance, Maria has delved into Keyboard Harmony and Contemporary Music. She has been an active participant in piano seminars by Dimitris Toufexis, Mahan Esfahani, Martin Jones, Gary Cooper, Sergey Dorensky and others. A great influence on her understanding of music and piano playing has been the pianist George Paterakis.
Maria's performances as soloist and as chamber musician include concerts both in Greece and Wales. In her performance of J. S. Bach's Keyboard Concerto in D minor BWV 1052 at the Dora Stoutzker Hall, (Royal Welsh College of Music and Drama), Maria showcased her talent both as a piano soloist and as a conductor. Her other notable concerts include "The virtuoso pianists: A recital on studies", Dora Stoutzker Hall - "Iria under the moonlight", conductor: Theodor Antoniou, International Meetings Naxos, Greece - "A journey to Szentender", conductor: Huw William, Symfonia Newyddd , Dora Stoutzker Hall
As a teacher, Maria aims to unlock her students' true potential, while nurturing their creativity. She considers music a key component of a well-rounded education that can enhance the students' lives and aid their emotional development.
Maria joined CMA in September 2017.