Sanaz Sotoudeh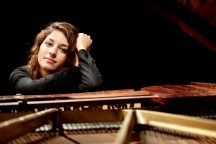 Pianist Sanaz Sotoudeh has appeared in recitals and festivals around Europe and North America with well-known singers and instrumentalists. She has been invited to perform at Daniel Barenboim's west-eastern orchestra on Spain; she toured UK performed in recitals for Japanese- Anglo society in UK. She had performed and been interviewed live in Tune on BBC Radio 3.
She has completed her studies in Piano Performance at the McGill University in Canada and the Royal Academy of Music London, UK, studying piano with well-known British pianists Julius Drake and Christopher Elton. She is thankful for the great support of a Cork entrance scholarship and a Kathleen Teust Grant towards her studies.
Throughout her teaching career, she has been driven to help students achieve their very best. She strongly believes that music has the power to change lives- to enhance the social, cultural and spiritual lives of people, and serve as a profound medium of personal expression.
Her empathy and interpersonal skills enable her to freely discuss any matter of concern with both students and parents of diverse social backgrounds. This is a role to which she will bring great value by helping students develop their talents and nurture their technique. She believes it is fundamental to allow students to play through the musical passages and expressions with no tension in body and with natural flow.
Sanaz has experience teaching students from many different cultural backgrounds, including international students and students who possess a wide range of musical abilities. She looks forward to joining the CMA Team.