Mr. Jerald Matiban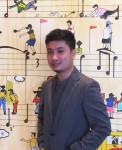 Jerald graduated with a Bachelor's Degree in Accountancy in 2008 from the University of Negros Occidental-Recoletos Philippines. He has also achieved the Certified Public Accountant board examination in the year 2009 and has a Diploma in International Financial Reporting Standards issued by Institute of Accounting Technicians Canada.
Jerald's career started with external and internal auditing. In 2011, he joined Shell Business Operations Manila as the Finance Analyst focusing on Inventory recording, reconciliation and valuation where he handled Europe, Canada and US accounts. He has been involved in process migration and stabilization.
In 2015, Jerald moved to Dubai and worked with an outsource accounting company where he handled accounting and finance processes covering local and multinational clients.
Jerald has over seven years of experience in Finance and Accounting processes covering manufacturing and oil and gas and service businesses. He joined CMA as the Senior Accountant in October 2017.
In his spare time, Jerald is a music lover and likes to sing and serve as part of his church's music ministry.