Nikolai Managazze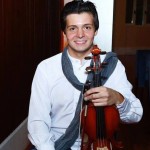 Niko Managazze was born in Seville, Spain and started his career as a violinist at the age of three with his parents, who are both artists of the Royal Symphonic Orchestra of Seville. His first formal classes were from Chistiakov, professor of the Virtuosi of Moscow Orchestra.
In 1998, having won first place in the entrance exams he attended Central School of Moscow at the Pyotr Ilyich Tchaikovsky Moscow State Conservatory.
After ten years of studying in Russia he moved to France where he received the Prize of Improvement in Versailles and, then, he completed his studies in the National School of Music of Paris founded by Alfred Cortot, where he obtained his Masters in 2013.
Niko loves performing having had his first recital at the age of six. He has performed in numerous recitals and concertos with orchestras in Spain, Russia, France, Italy and many other countries. He also spends his holidays giving masterclasses at various festivals around the world.
His love for teaching however, was realised whilst he was still studying. He spent much time supporting his teachers with teaching their students as he progressed and felt that this was his calling.
Niko joins us from the Mozarteum Conservatory in Caracas , Venezuela where he was a full-time violin teacher working with El Sistema. He is very excited about joining CMA where he will be teaching violin and viola.