Mr. Ozren Crncevic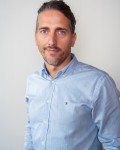 Born in Split, Croatia, Ozren has over 15 years of experience in hospitality and real estate business.
He joined CMA in 2012 and he manages the registrations and co-ordination of the ABRSM, Trinity and Rock School examinations. He also manages the day to day running of our Take Note Bookshop.
Ozren enjoys travelling, music, martial arts, photography and sports. He was also a volunteer for the Green Gecko Project in Cambodia in 2013.