Mr. Ozren Crncevic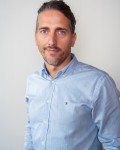 Born in Split, Croatia, Ozren has over 15 years of experience in hospitality and real estate business.
He joined CMA as the In-House Services Supervisor in 2012 and he manages the registrations and co-ordination of the ABRSM, Trinity and Rock School examinations.
Ozren manages the Take Note Book Shop and Take 5 Cafe as well as assisting the Events Manager with our external events.
Ozren enjoys travelling, music, martial arts, photography and sports. He was also a volunteer for the Green Gecko Project in Cambodia in 2013.